Solar electricity is one of the smartest ways you can help the planet's energy crisis. As coal-burning fuel continues to lead the way in being the source of most of the planet's electricity, small, but important inroads are being made by individuals like you who are installing solar electrical systems to power their homes and businesses. When you work with our solar electricians Seattle Washington, you know that you are working with some of the best in the industry.
Your project, no matter how big or small, is important to us. We bring our trained, experienced, and professional attitudes to work. Electricians with solar training represent a specialized profession, and they can quickly and efficiently install the latest in solar panel technology.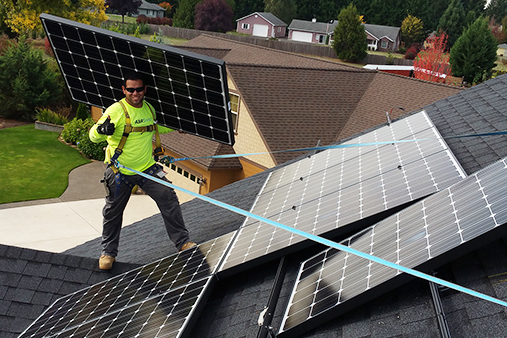 We stay up to date on the latest in solar power electricity training, best practices, and we are ready to share what we learn at trainings with you. Whether that is through casual conversation about our work or by demonstrating to you what we learn through installing a system in your home or business, we are one hundred percent behind continuing to learn as the solar power system continues to evolve over time. This dedication to excellence in professional development helps to ensure that our projects are of the best quality.
Electric vehicle power is one reason why people set up solar panel systems in their homes. They want to be able to conveniently and efficiently charge their electric vehicles. Whether you have an electric bike, scooter, car, or truck, we can create an electric charging station where it is most convenient for you, whether that is at your home or business.
Our solar electricians Seattle Washington are experienced, and some of them are journeymen in their trade. They work together to provide a seamless installation, provide excellent repairs, and to be there when you have questions about your solar electric system.
We don't just install solar-powered electricity systems. We live what we do. Many of us own electric vehicles ourselves, and we are all committed to living a greener life. Since we are philosophically and personally behind the work that we do, you can depend on us to provide you with a high-quality installation experience.
Contact us today to learn how our solar electricians Seattle Washington can help you create the best solar power system to either power your vehicle, your home, your business, or both. We look forward to serving you.